Roof Space offers the solution to the classic roof tent problem
Typical folding roof tents closed

👎

Awkward assembly and disassembly, among other things due to the tarpaulin that has to be slipped over the package

Typical folding roof tents open

👍

Doubling the lying surface when unfolding
Light weight and usable for many vehicles

Typical hard shell roof tent closed

👎

No doubling of the lying surface: large case, but very small interior
Heavy weight and usable only for large vehicles

Typical hard shell roof tent closed

👍

Gas pressure springs make assembly and disassembly quicker and easier
Aerodynamic shape
Roof Space open

👍

Doubling of the lying surface: small suitcase, yet large interior
Unique panorama mode

Roof space closed

👍

Easy assembly and disassembly supported by gas springs
Compact and aerodynamic aluminum case
Light weight and usable for most vehicles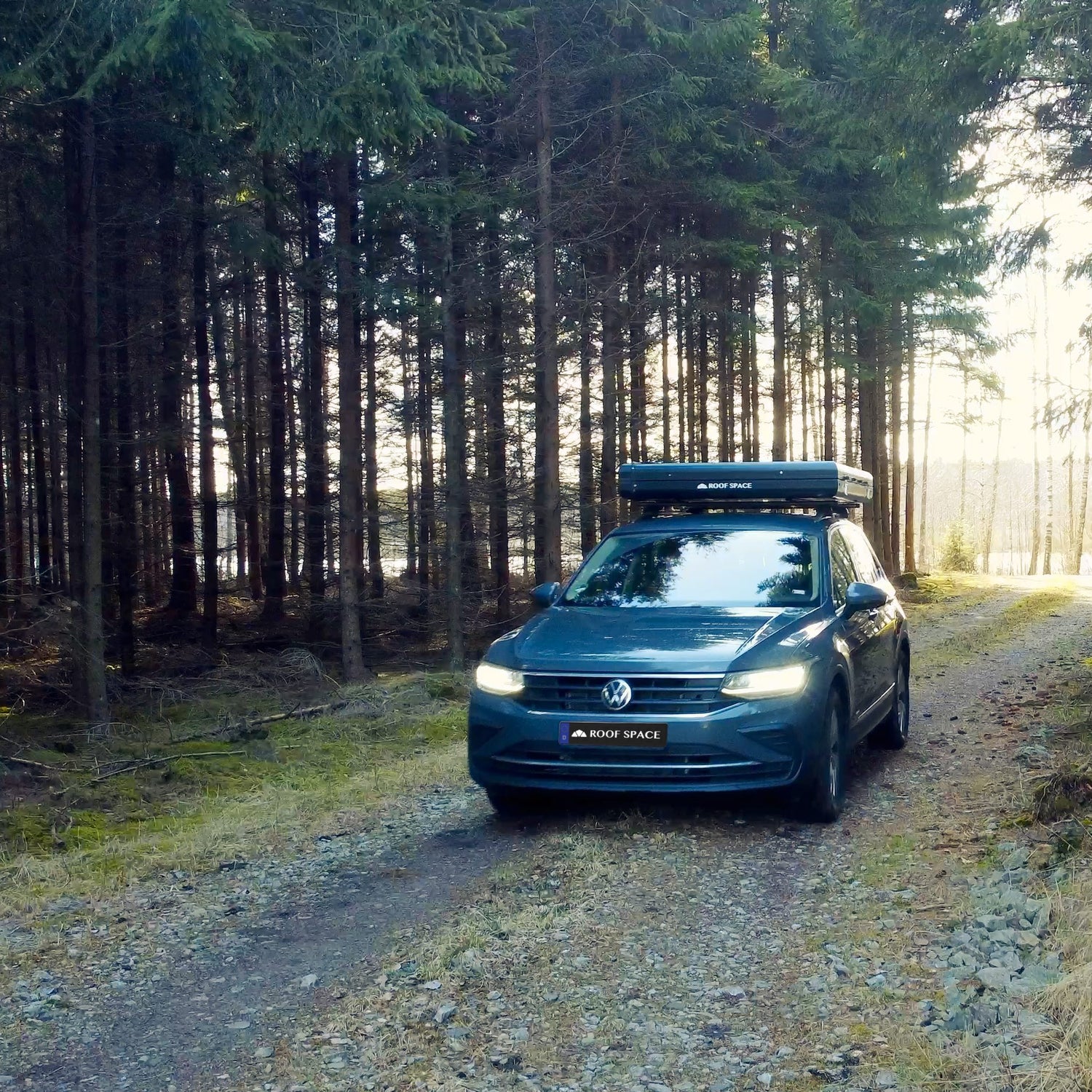 The case
The Roof Space is the first folding roof tent on the market that has a fixed case. This newly developed, robust and high-quality aluminum case replaces the flimsy PVC tarpaulin that is still common today.
This means that the Roof Space not only looks good on off-road vehicles, but also on normal cars. At the same time, it increases driving comfort, as there is no noise from the flapping of the PVC tarpaulin and your consumption drops!
In addition, the aluminum case allows the use of gas pressure springs - a novelty in the field of folding tents. These support you during assembly and disassembly, so that it is easy for one person to do it. For particularly tall cars or smaller people, a special belt is included as standard, which simplifies opening and closing when it is difficult to reach.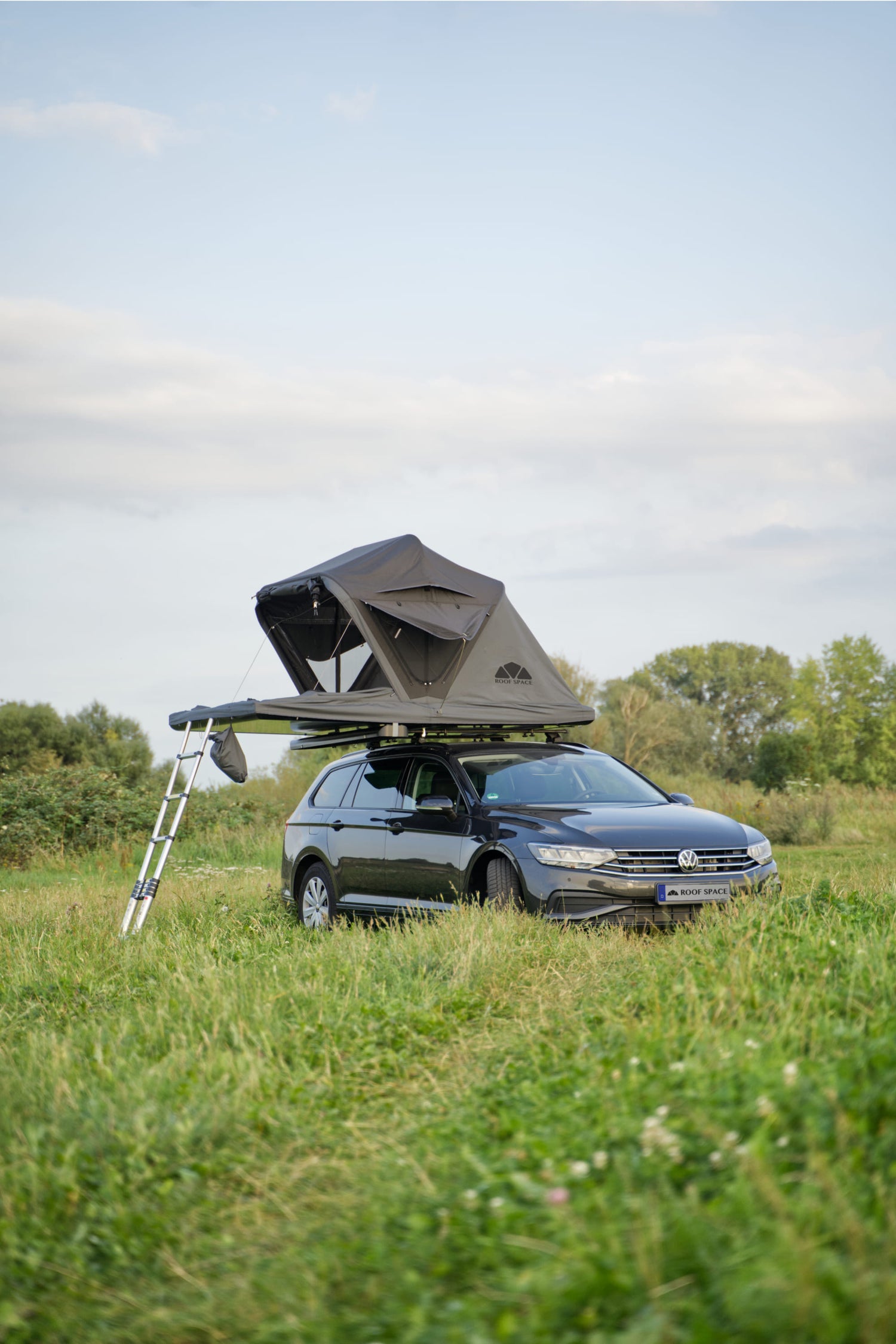 The panorama mode
A roof tent should be more than just a place to sleep - that's why we invented the panorama mode.
This turns your roof tent into a roof terrace! You only have to isolate yourself if you want to!
Whether it's a fantastic view or a hot summer night - with the mosquito net for panorama mode you are very close to your surroundings - only the insects stay outside.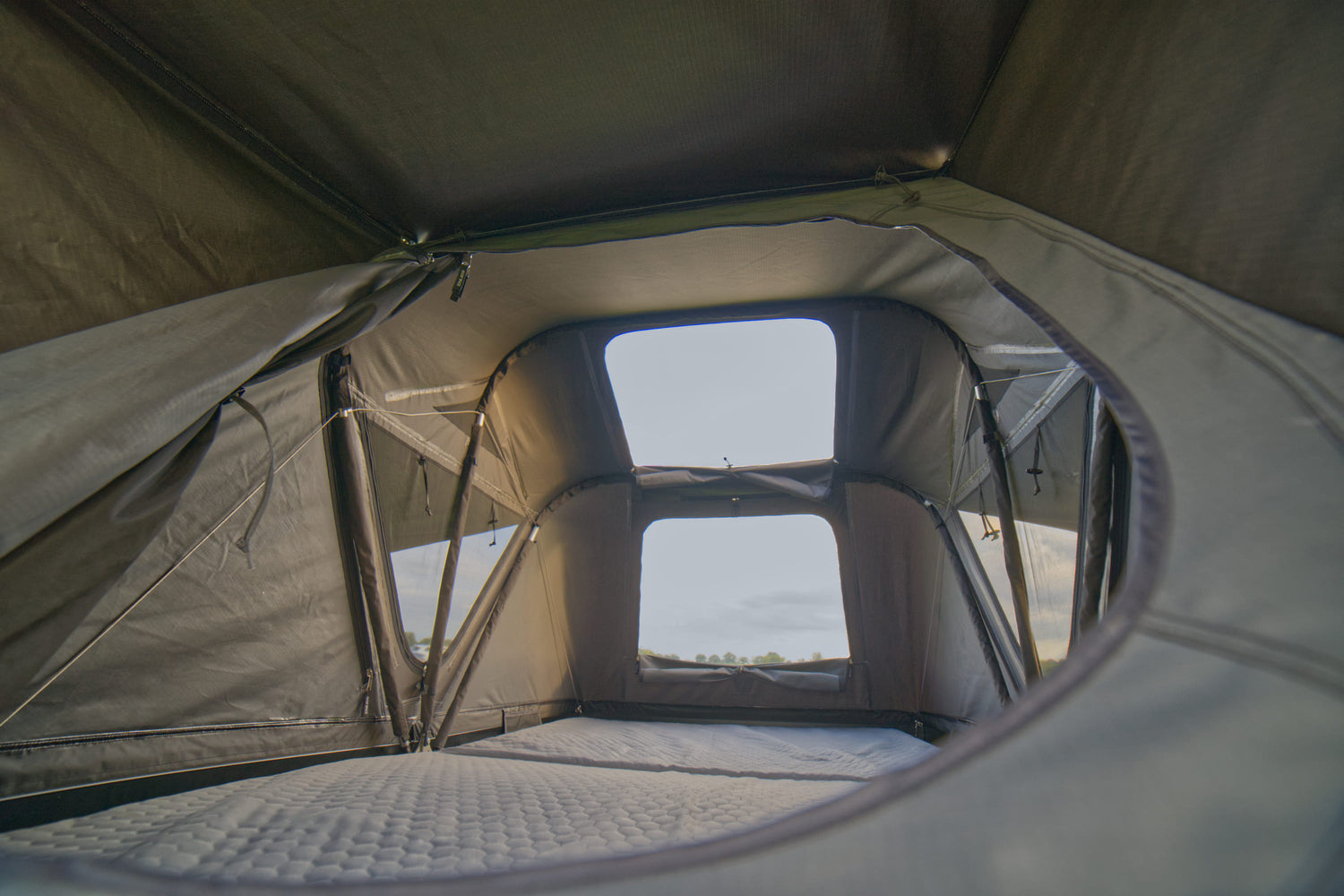 The interior
The spacious interior offers plenty of space and through the side windows and the large window foils on the back and in the roof, you are connected to your surroundings even in bad weather. Even a rainy day is a pleasure!
Reviews
⭐️⭐️⭐️⭐️⭐️

I bought the roof tent at a trade fair and was super excited about the innovative and light construction. Travel with it spontaneously and enjoy the great view :-). [...]

- Nhan Lindörfer

⭐️⭐️⭐️⭐️⭐️

The roof tent is something new and is super easy to set up. I really like the design and the good ventilation system. And it's huge, the lying surface is an absolute plus. We have learned to love the panorama mode, we just like to have breakfast in the roof tent in this mode and enjoy the view.[...]

- Golo Ko

⭐️⭐️⭐️⭐️⭐️

I'm thrilled with the tent.👏Just like the panorama mode, but I'm also convinced that everything works well when it's raining.👍It takes 2-3 minutes to set it up and put it together. The aluminum shell is very stable and top.[...]

- Tomas Hudec